The Ultimate Treatment Solution for Your Shoulder
The ColdCure® Shoulder Wrap delivers the ultimate in pain and swelling relief. Here's what makes ColdCure® the absolute best therapy for your sore shoulder:
ColdCure® gel packs hold more gel per pack, providing maximum coverage of your shoulder
ColdCure® gel packs have more cold capacity, for colder and longer lasting treatments
ColdCure® Shoulder gels are specially designed to fit the complex shape of your shoulder
XC RigiGel® targets your pain by moving the cold energy to the injured area of your shoulder
The Shoulder Wrap provides amazing cold compression for better relief of pain & swelling
ColdCure® Shoulder Ice Packs are FDA Registered Class I medical devices - that's serious!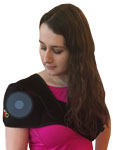 The innovative technology of ColdCure® is unmatched. Nothing else even comes close. The ColdCure® Shoulder Compression Wraps fit better, last longer, stay colder, work faster, target pain better, and are made of ultra-safe materials. You can be sure that a King Brand® cold compression Shoulder Wrap with ColdCure® technology is far more effective than any other product on the market in many, many ways. Start feeling better today.
ColdCure® Means Superior Relief of Pain & Swelling
Whether you suffer from a soft tissue injury or a chronic condition, there is no better treatment for pain and swelling than a ColdCure® Shoulder Wrap. Nothing is faster or more effective at reducing pain than cold and compression. There are a lot of wraps out there, but none come even close to this. King Brand® ColdCure® Shoulder Wraps use both cold and compression to bring you the absolute best performing cold compression device available. ColdCure Shoulder Ice Packs have many benefits other products don't.
Click here for more about ColdCure®!
XC RigiGel® Keeps The Cold In Place
Only King Brand® ColdCure® gel packs contain the unique XC RigiGel® formula. XC RigiGel® is soft to the touch but doesn't move around under pressure. This means it stays in place to treat your injury, so you get an even and consistent cold treatment over the entire injured area, every time. No matter how hard you press on the gel, it stays in place. It will give a bit for comfort, but it won't move away from your painful injury.
Keeping the cold on your injured shoulder throughout treatment is very important if you want to relieve the pain as quickly as possible. Unlike traditional blue ice packs, the XC RigiGel® formula doesn't move to other parts of the pack, even when put under heavy pressure for long periods of time. Keeping the pressure and cold on the injured area of your shoulder is critical for effective relief of pain and swelling. In terms of flex and form, XC RigiGel® packs feel exactly the same at room temperature as they do straight out of the fridge or freezer. They're firm yet flexible at any temperature for the most comfortable treatments possible.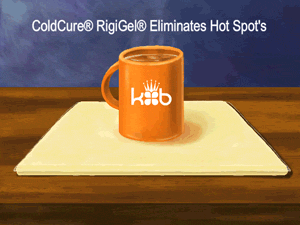 While the gel itself doesn't move around inside the pack, the cold energy does. Traditional ice packs have hot and cold spots, but the unique XC RigiGel® formula distributes the cold energy evenly throughout the pack. When cold pressure is applied to a shoulder injury, regular gel starts to warm up in that specific spot faster than the rest of the pack. The temperature balancing Rigigel works to move the cold where it's needed within the gel pack, eliminating the potential for hot spots. This means your painful shoulder will receive the cooling power of the entire gel pack every time. The hyper-conductive power of these gel packs is unmatched.
Click here for more about these products!
Applying the Wrap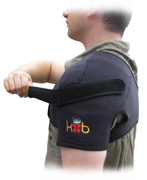 To give you even more cold compression, each Shoulder Wrap comes with a free Accessory Strap. The Accessory Strap can be applied anywhere on the wrap to provide additional compression and support over the exact location of your pain. This allows you to target the treatment specifically for your injury, which means maximum relief of your pain and swelling.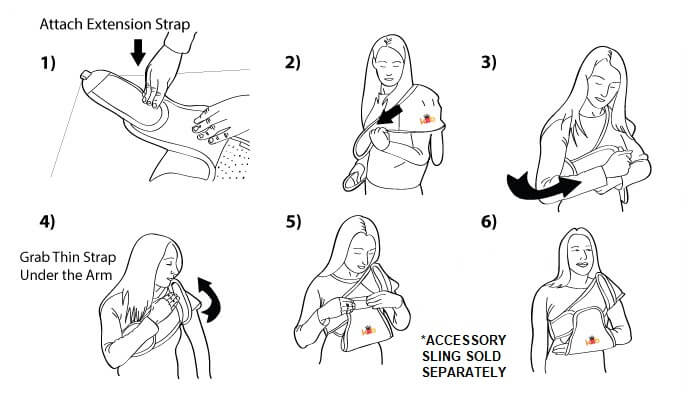 For more compression, attach the Accessory Strap to the area of your shoulder where you feel the most pain.
To restrict movement of your shoulder, attach the Accessory Strap to the area that's most painful when you move.
Tons of XC RigiGel® Makes Tons of Difference
The Walgreens factory tested Rigigel and found that pound for pound, it held over 3x more cold than their brand name gel. The results were staggering.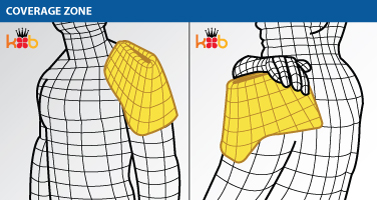 Not only do XC RigiGel® packs hold more cold, they also cover a larger area and contain more gel than standard ice packs. This makes a huge difference in the treatment you receive. Most traditional ice packs only contain a little bit of gel, because a gel pack with tons of gel is a lot more expensive to make. But if you really want to feel better and reduce your pain and swelling, you need a pack with tons of gel. XC RigiGel® packs are the solution. A bigger pack with more gel inside means faster and more effective relief of your pain and swelling.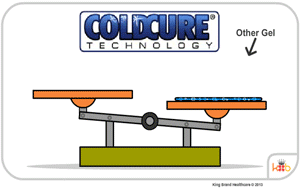 The ColdCure® Shoulder Wrap comes with 3 large gel packs. This means you can have 1 gel pack inside the wrap for your treatment and 2 more charging in the fridge or freezer, so you can swap them out quickly to keep your therapy going. ColdCure® gel packs are large enough to cover your injury, but are never bulky. For example, the ColdCure Leg Wrap comes with 3 gel packs that weigh about 4 lbs (2 kgs) and that's just the gel packs alone. Compare that to most other ice packs or cold wraps on the market that weigh less than 1 lb, including the wrap. A King Brand ColdCure® Shoulder Cold Compression Wrap with XC RigiGel® contains 10x more gel than other wraps. That's a TON of pain relief!
Click here for more about ColdCure®!
Related Forum Content from King Brand
You might be asking yourself "Who is King Brand, and why is their forum content so important?" Well, here's why! King Brand takes pride in knowing that their products will help heal people, and they aren't afraid to show it. Their commitment to helping people heal naturally, is the pillar on which the company has grown on.
The term BFST stands for Blood Flow Stimulation Therapy and it was created by King Brand Health Care. Blood flow is very important to help heal injuries, and after years of research and development they have come up with a product that does just what it says. No other company can match what King Brand does. They are the only company on the market that can directly target injuries at a cellular level with no surgery or doctors visits needed. Of course it's important to visit the doctor when you've injured yourself, but their treatment modalities can be done in the comfort of your own home.
The King Brand forum is a great place to research specific ailments and to figure out whether or not the BFST and ColdCure products can help. Their treatment advisors are constantly posting on forums to help educate people on how to heal their injuries. If you can't find the answer you're looking for, then feel free to take part in their forum by registering.
Just below is a prime example of the quality customer service that King Brand provides on a daily basis. This is the perfect online community that will help educate, heal and get you back on your feet in no time.
Torn Rotator Cuff
Does this treatment facilitate actual healing of the tear?
Re: Torn Rotator Cuff
Hi Sunshineruns2,

The BFST will help to facilitate the healing of a rotator cuff tear. The BFST enhances blood flow which brings oxygen and nutrient rich blood to the area - a requirement for the body to heal itself. Unfortunately, an injured shoulder at rest often has restricted blood flow which in turn limits the body's ability to heal. Physical activity will promote blood flow but all too often it also results in small but frequent re-injury which extends the healing time and greatly increases the amount of scar tissue that develops. With a BFST, blood flow can be stimulated in the injured area while you are at rest. With improved blood flow and without physical activity and the risk of re-injury, you can recover from their torn rotator cuff injury much more quickly.

If you have any further questions, please feel free to contact us at 844-400-2525 or email us at service@kingbrand.com
Additional Reading and Links
Copyright 2011-2022 King Brand Healthcare Products® Limited. All Rights Reserved.
Meniscus Injury Treatment,
Muscle Injury Treatment,
Neck Injury Treatment,
Plantar Fasciitis Injury Treatment,
Shoulder Injury Treatment,
Tendon Injury Treatment,
Wrist Injury Treatment,
BFST Wraps,
Blood Flow Stimulation Medical Devices,
Blood Flow Stimulation Therapy,
Blood Flow Stimulation Wraps,
LCL Injury Treatment,
MCL Injury Treatment,
ACL Injury Treatment,
PCL Injury Treatment.
King Brand
®
ColdCure
®
Cold Therapy ice packs and gels are the best solution to your ankle soft tissue injury. King Brand
®
ColdCure
®
RigiGel
®
Ankle Wraps hold the cold longer, stay in place and are safer than any other product. Treat your ankle pain with King Brand
®
for the best results.