Which Shoulder Ice Pack is Best for You?
With so many ice packs and cold wraps being sold online, it is easy to get lost in the search for the best product. Websites such as eBay and Amazon are offering thousands of products, all of which are making wild claims and ludicrous offers. So which is the best product for your injured shoulder? Below is a list of our reviews and tests of the products we found for shoulder injuries, and the real ratings we think they should get.
King Brand Top Shoulder ColdCure Wrap
Comfortable and High Quality Wrap
$99.00 - $115.00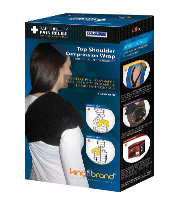 The wraps offered by King Brand have the best performance, quality and treatment therapy by far. This 'ColdCure' Shoulder Wrap is made from high grade, extremely comfortable neoprene fabric that offers complete coverage of all rotator cuff injuries. It comes with multiple gel packs that are custom shaped to target all of the important areas of the shoulder. Making this wrap extremly effective. Having customized wraps to effectively target everyone's differences is a great idea. Customers are asked to choose the right or left shoulder as well as a large and small feature to give the best fit possible. This wrap is well deserving of the highest rating possible, 5 stars!For more information, click here.
Wraps Offered At: kingbrand.com
Battle Creek Ice It! Shoulder Wrap
Watery Gel Packs
$30.49 - $49.99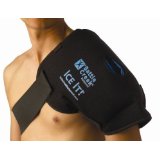 The Ice It! Shoulder Wrap has some good points. It's made of quality material for the price and the design is not bad. It is a little bulky, so you'll find it much easier to put on if you have someone helping you. In regards to the gel packs, they're very much on the watery side. The gel moves around inside the pack very easily. When it oozes away from your injury, you're not getting a proper treatment. Another issue with this type of gel is how thin it is. If there were more gel inside the pack and it were thicker, it would be much more effective. Overall this is a reasonably priced wrap that could be much better with different gel.
Wraps Offered At: amazon.com
IceSleeve Shoulder Cold Pack
Impossible to Put on Alone
$33.00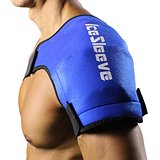 While the detachable straps allow you to customize the fit of the wrap on your shoulder, they make it extremely difficult to put on the wrap without help. If the straps were sewn into the wrap, this wouldn't be a problem. This seems to be a common issue with a lot of shoulder wraps, and it's definitely a glaring one. Another thing about the straps -- they tend to pop off since they're not sewn in, which is really annoying. This wrap comes with 3 gel packs that can be used for hot or cold therapy, which was nice since many only come with 1 or 2. Unfortunately, the cold didn't last as long as the King Brand wrap. Also, the instructions were lacking in detail. They could better explain how the wrap goes on and what the purpose is for the extra straps.
Wraps Offered At: amazon.com
Pro Series Double Shoulder Ice Pack System
No Instructions!
$59.99 - $79.99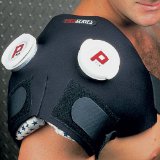 The Pro Series Double Shoulder Ice Pack System is definitely ideal for bigger people as it holds two rather bulky ice bags. Very nice design feature if you are hoping to treat your entire shoulder. However, it's near impossible to put the wrap on if you don't have help from someone else. The cooling power is pretty good but the ice bags thaw too quickly to get a sufficient treatment in. What was truly disappointing about this product was the fact that it did not come with any instructions! It's difficult to figure out how the bags go inside the wrap and how the wrap is supposed to be applied to the shoulder without any written or illustrated guidance whatsoever.
Wraps Offered At: proseriesusa.com
O2 Cold and Compression Shoulder Wrap
Warning, Frost Bite!
$42.95 - $58.50

Traditionally cold therapy should be 20 minutes on and 20 minutes off. This wrap well surpasses the 20 minutes of cold, leaving the risk of frost bite. To put on and take off the wrap is extremely cumbersome and difficult to do on your own. Having this product ship with no instructions on how to use or apply it, makes the first couple attempts very discouraging. The brace doesn't fit a women with average size shoulders properly either. Having a second person to help with the application of this product is absolutely essential. Having this product come in different sizes might be a better way to have happier customers.
Wraps Offered At: amazon.com
McDavid 207 Thermal Shoulder Wrap
Explosion Warning, Use With Caution
$49.99 - $42.38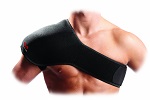 The instructions are printed directly on the bag, and it states that the gel can be placed in the microwave for 2 minutes to use as a heating pad. So, being cautious it went in for 1 minute to test the warmth. The gel exploded everywhere, and I mean everywhere! Contacting Amazon and McDavid to get a replacement gel pack ended no where. I have emailed a couple times with no response from McDavid in regards to returning their wrap. The other major issue with this one is that it doesn't sit on your shoulder properly. The second you decide to move, whether sitting laying down, the wrap will reposition itself. Yet another product that takes a helper to use.
Wraps Offered At: amazon.com
Mueller Hot/Cold Therapy Wrap
Smells Awful
$18.42 - $22.49

Yet another wrap is found that takes two people to apply it. The product itself needed to be 'aired out' for a couple days due to the smell of plastic that smelled similar to burning rubber. The gel packs don't stay cold for longer than 5-8 minutes and are extremely uncomfortable. If you manage to get this wrap on, don't move! The second you move the wrap will end up falling off, and the gel packs will slide out of their holders. This must be worn with clothing on (unlike in the photo) because the material is very low quality, it feels like it's scratching you.
Wraps Offered At: amazon.com
Pro Ice Cold Therapy Shoulder/Upper Arm Wrap
Doesn't Conform to the Shoulder
$42.09 - $74.95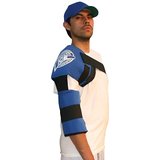 This wrap does not come with gel packs as I was hoping. It contains a water-like substance that freezes like ice, making it harden. Gel packs would be much more preferable as they wouldn't make the wrap as stiff and uncomfortable as the ice. A soft gel would also do a better job of actually conforming to the shoulder, which this wrap doesn't do at all. Even using the additional straps won't get the ice to mold to your injury. It actually hurts because it's so hard. Not having proper compression on your shoulder means that the cold therapy is much less effective, because it's just sitting on your shoulder without actually targeting the injured area. While the size of the wrap may appeal to some people as it covers more surface area, it's very cumbersome and difficult to put on.
Wraps Offered At: amazon.com
Polar Ice Shoulder Wrap
Scores Low on Both Quality & Effectiveness
$29.99 - $54.99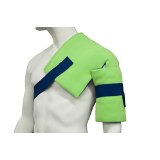 Apparently this wrap is also designed for use on the hips. Maybe that's why it doesn't fit on the shoulder properly. The cut of the fabric is square and does not conform to the body whatsoever. It was no surprise when it kept moving around. Not a fan of the cheap fleece material either. In terms of performance, this wrap was completely underwhelming. The cold only lasted for 10 minutes, then the whole thing goes right back in the freezer, which is a pain since it's a pretty big wrap. They should have designed this product to be used with individual gel inserts, but even that wouldn't get this wrap above two stars.
Wraps Offered At: brownmed.com
Copyright 2011-2023 King Brand Healthcare Products® Limited. All Rights Reserved.
Meniscus Injury Treatment,
Muscle Injury Treatment,
Neck Injury Treatment,
Plantar Fasciitis Injury Treatment,
Shoulder Injury Treatment,
Tendon Injury Treatment,
Wrist Injury Treatment,
BFST Wraps,
Blood Flow Stimulation Medical Devices,
Blood Flow Stimulation Therapy,
Blood Flow Stimulation Wraps,
LCL Injury Treatment,
MCL Injury Treatment,
ACL Injury Treatment,
PCL Injury Treatment.
King Brand
®
ColdCure
®
Cold Therapy ice packs and gels are the best solution to your ankle soft tissue injury. King Brand
®
ColdCure
®
RigiGel
®
Ankle Wraps hold the cold longer, stay in place and are safer than any other product. Treat your ankle pain with King Brand
®
for the best results.